2018 Porsche 718 Boxster
$59,000 *

Starting MSRP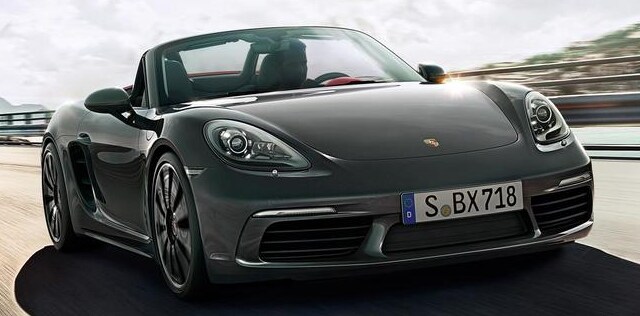 Proudly Serving Brentwood, TN
How Much Does the 2018 Porsche 718 Boxster Cost?

The starting MSRP of the 2018 Porsche 718 Boxster is $59,000. *
 

How Many MPG Does the 2018 Porsche 718 Boxster Get?
The 2018 Porsche 718 Boxster is capable of achieving 21 mpg in the city and 28 mpg on the highway. **
Base Engine
 2.0L Turbo 4-Cylinder
What's New for the 2018 Porsche 718 Boxster?
The 2018 Porsche 718 Boxster has new changes to its appearance. These new changes include a high gloss black rear spoiler, new contrast stitching in the interior, two-tone upholstery and colored seat belts. There will also be a new cabin filter as well. On the exterior, the car will look the same as it has in previous years with two doors, LED headlights, fog lights and 18-inch wheels. The 718 Boxster used to be the entry-level base model of the brand with a mid-range engine, rear wheel drive, two-seat convertible sports car that looked very much like the 718 Cayman model. With the 718 Cayman becoming the base model, the Boxster will now be the more expensive car.
There are two engines with the 718 Boxster which include the 2-liter turbo flat four with 300 horsepower and 280 pounds-feet of torque and the 2.5-liter turbo flat four with 350 horsepower and 309 pounds-feet of torque. Both of the engines come with either a standard six-speed manual transmission or an optional seven-speed twin-clutch automatic gearbox. Regarding the fuel economy, the 718 Boxster has either 21 to 22 miles per gallon in the city or 28 to 29 miles per gallon on the highway with the 2-liter turbo engine. With the 2.5-liter turbo engine option, the fuel economy is 20 to 21 miles per gallon in the city and 26 to 28 miles per gallon on the highway with the automatic transmission. Since the Boxster 718 is a mid-range sports car, there are cargo areas in both the front and the back of the vehicle. The trunk is over four cubic feet.
The standard features of the 718 Boxster offer 18-inch alloy wheels, leather upholstery, a rearview camera and parking sensors. There is also Bluetooth connectivity and HID headlights. Consumers cans also get options such as 20-inch wheels, adaptive sports seats, heated and ventilated front seats and a navigation system. There is also an audio system from Bose or Burmester. With a 2018 718 Boxster, the vehicle will also have a torque vectoring system, carbon ceramic brakes and as sports exhaustion system. Each model also comes with an active suspension, a heated steering wheel, and a sports exhaust system. All Porsche 718 Boxster comes with dual zone climate control. When it comes to features, the Boxster 718's can be completely customized regarding color, upholstery and with the color of the seat belts.